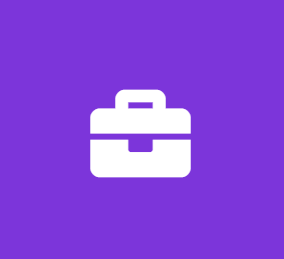 Entry Level Digital Marketing Associate - Summer 2020
obo. Agency
Marketing Full Time
TL;DR - ISO recent grad to join an enthusiastic team and hit the ground running and quickly grow their career in a tech-forward agency environment! (We are actively hiring during the COVID-19 pandemic.)
WHAT YOU CAN EXPECT…
Our Marketing Associate program is designed to fast-track motivated new grads into a long term marketing career path. We offer the training, support, and resources to help you become a confident, capable digital marketer. You'll work closely with your team to execute digital marketing campaigns to grow our client's revenue and reach. You'll need a desire to learn, to be intellectually curious, to constantly improve, and have a relentless focus on client satisfaction!

We are working from home during the COVID-19 pandemic, however, we look forward to returning to our Columbia, MD office when the state deems it safe.
WHO WE ARE…
Obo. Agency is an established, full-service digital transformation firm specializing in sales, marketing, and technology solutions for growth-driven companies. We work across several industries to increase revenue and reach for each of our clients. In addition to awards for our work, we're the proud recipient of the Baltimore Corporate Culture Award and have been recognized by the Baltimore Business Journal's Best Places To Work.

YOUR RESPONSIBILITIES…
Learn and execute various digital marketing tactics including campaign launches, email marketing, paid digital advertisement, SEO, data segmentation, CRM & MA Software, and more.
Assist in the production of marketing projects and other general marketing duties.
Upload and launch digital campaigns.
Compile and analyze performance data for various campaigns, assessing effectiveness, and identifying optimization opportunities.
Learn Google Analytics reporting suite; providing reports to client.
Keep abreast of new technologies as needed to ensure ongoing competitiveness.
Perform other duties as assigned.
WHAT WE'RE OFFERING…

A safe, energetic environment to develop your skills and career.
99% employee premium coverage on health, dental, and vision insurance.
3 weeks paid time off.
11 paid holidays + your birthday!
401k with matching after 6 months of employment.
Flexible WFH policy after 6 months of employment.
Flexible summer and winter hours.
Ongoing professional development.
Team outings and happy hours.
Office snacks and drinks.
Quarterly health & wellness reimbursement.
Beer Friday.
And more!
POSITION DETAILS…
This is a full-time position with standard business hours in a typical office environment*
(Or in a typical VIRTUAL office environment, given the pandemic)
Hiring Process…
1.) Apply with us!
The application should include: Answers to the questionnaire, video/traditional cover letter, resume, and an example of your marketing work.

2.) We'll be in touch with qualified candidates, via email, providing times to join us for a preliminary video interview.
3.) We invite qualified candidates to join us for our virtual Day In The Life interview.

4.) We will invite top-performing candidates to interview with our Co-founders and Senior Strategists.

5.) Our hiring team considers each applicant holistically and will make an offer to the candidate who is the best fit for this dynamic position.
Want to learn more about us? Check out our website at www.oboagency.com
We are unable to offer sponsorship for this position.
WHAT WE'RE LOOKING FOR…

Must Haves:
Has a passion and natural curiosity for learning
Loves problem-solving; proactively identifies issues and develops creative solutions
Applies strong analytical, critical thinking, and communication skills
Works effectively independently, but has an interest in providing leadership through subject matter expertise
Proactively identifies issues and escalates when appropriate
Leads and contributes to improvements in processes (technical or business)
Has a natural inclination, and passion to grow by making things better for Clients and obo. Agency
Learns from mistakes, takes action to apply the learnings and provides peer and team-wide feedback for those in the immediate area of focus
Strong verbal and written communication skills
Nice to Haves:
Recent graduate of a 4-year program in marketing, communications, business, technology or a similar area of study.

Marketing production experience (e.g. launching campaigns, email marketing, landing pages, market research, copywriting, SEO, etc.)

Project management or coordination experience

Knowledge of Agile/SCRUM methodology

Previous experience in a startup culture

Project Management experience
Bonus:
Familiarity with CRM, MA, ERP, etc

Certifications with HubSpot, Salesforce, Google Analytics, etc.

Understanding of Marketing Automation workflows