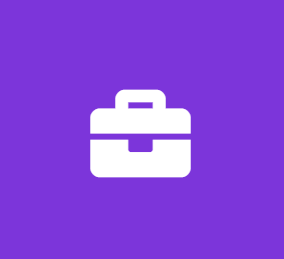 Accounting Assistant (Internship)
AYB SOLUTIONS LLC
Customer Support Internship
We are seeking a motivated accounting intern who is ready to apply knowledge of financial terms and principles to an authentic real-world experience. The intern will assist with a wide range of duties, including analyzing data, preparing financial reports, and learning about varied accounting activities. This is an exciting opportunity for any student pursuing a career in finance.
This internship will help you acquire professional skills and provide you with knowledge of Accounting, Taxes, and Finance. You will be exposed to tax procedures including tax consulting and tax return preparation. You will assist with tax research, tax planning, and the preparation of supporting work papers on various tax returns and projects. Ultimately, you will gain broad experience in finance and should be prepared to enter any fast-paced work environment. The internship program will provide the student with relevant skills in a variety of accounting functions via on-the-job training
*** Non-Paid INTERNSHIP ***
Requirements
Business, Finance, Economics, or Accounting major
Strong technical and organizational skills in addition to excellent written and verbal communication skills, in a professional environment.
Proficient in Microsoft Office applications (Excel, Word, and PowerPoint)
Aptitude for mathematics
Basic understanding of financial and accounting principles
Attention to detail
Ability to multitask
Excellent verbal and written communication skills
Demonstrated ability to work independently and as a team.
High degree of discretion dealing with confidential information
Must be actively enrolled in an undergraduate program at an accredited local University, with a major in Finance, Junior or Senior level, or recent grad with current GPA of 3.0 or above.
Responsibilities
Creating Chart of Accounts
Post Transactions
Data entry
File Management
Monthly Reconciliations
Bookkeeping
Assist with Client Books Clean Up
Reconstructing Client Books
Reviewing Financial Reports
Payroll, Sales Tax
Other admin duties as assigned
Journal Entries
Benefits:
The intern will be set up with QBQ and XERO access with access and opportunity to free training and certification.
Hands-on training learn to prepare individual tax returns
Apply skills and knowledge to the workplace
Academic credit will be available to qualifying students who receive approval of their university
Upon successful completion of the internship, will be provided with a letter of recommendation
ADDITIONAL INFORMATION:
Preferable skills for success in role includes but not limited to:
Must be efficient in Microsoft Office Programs with a strong proficiency in Excel.
Must have knowledge of basic principles of Accounting and Financial Analysis.
Understanding of the Chart of Accounts
Knowledge of basic bookkeeping procedures
Communications Skills
Strong interpersonal skills, problem-solving abilities, and organization.
Exceptional attention to detail.
Superior written & verbal communication skills.
Ability to work in a fast-paced environment and adhere to deadlines.
Ability to work autonomously and/or in teams.
Maintain digital and physical financial records
Languages
Any additional languages are a plus but not required:
English - Required
Spanish - a plus
Portuguese - a plus
French - a plus
Education
Min. of AS in Accounting in order to apply.
Working on a BA in Accounting in the 3rd or 4th year.
Candidates, please pay attention, if you are applying to this position understand this is a Non-Paid INTERNSHIP.
Time Commitment:
Hours of operation are 9:00am and 6:00pm Monday thru Friday
Flexible scheduling to 4 - 6hrs allow for finals and changes in the class schedule
Must be available to work up to 25 hours per week as a minimum during the academic year
*** DO NOT CALL OUR BUSINESS *** Apply only through this site
PHONE INTERVIEW - To speed up the process of interviews it's important all candidates do the phone interview.
We are accepting applications now and will begin our formal selection process for the internship program in January 2020. Qualified applicants will be contacted if they have been selected to move forward in our process.
Job Type: Internship
Experience:
Bookkeeping: 1 year (Required)
Office Administration: 1 year (Preferred)
Customer Relations: 1 year (Preferred)
Education:
Location:
Orlando, FL 32819 (Preferred)
Language:
English (Required)
Spanish (Preferred)
Portuguese (Preferred)
French (Preferred)
Work authorization:
Work Location:
Benefits: